Research Experiences for Undergraduates
Summer 2022
Vanderbilt University
Physics & Astronomy
Februrary 5 - March 4
Offers made on a rolling basis for applications completed during this window.
How to Apply
Research Projects
Recommendation Letters
About the Program
The Vanderbilt Physics & Astronomy Research Experiences for Undergraduates (REU) Program brings ten students each summer to the Vanderbilt campus to work closely with faculty and research groups. The program provides research opportunities in areas across sub-fields of theoretical physics, experimental/observational physics, computational physics, and data-driven physics.
Funded by the National Science Foundation, this REU program is a 10-week internship for rising sophomores, juniors, and seniors. (Graduating seniors: Please contact us to inquire about eligibility.) Our program emphasizes a friendly, collaborative environment, field trips and local social events. Comprehensive mentoring is achieved through close interaction with faculty, postdocs, and other Vanderbilt students within the department. Professional development opportunities are offered through topical workshops, coffee break chats, expert seminars, and coached poster/talk sessions which prepare students for future academic and professional challenges.
Our program is proud of the diversity represented by our participating interns, mentors, faculty, and staff. Our program works closely with the Vanderbilt Data Science Institute and the Frist Center for Autism & Innovation to co-sponsor students where appropriate (please visit the links to these partner programs on the right side of site).
Vanderbilt University is located in the vibrant and cosmopolitan Nashville Tennessee. The campus is within walking distance of downtown.
Research areas include:
We also coordinate projects and mentors with these partnering programs at Vanderbilt. Applicants interested in sponsorship through one of these programs should indicate this clearly in the application.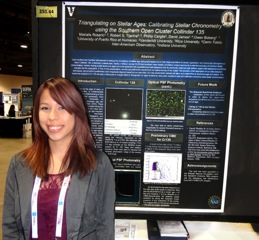 REU 2012 student Marialis Rosario presenting her research at the 2013 American Astronomical Society meeting, where she was awarded best student poster.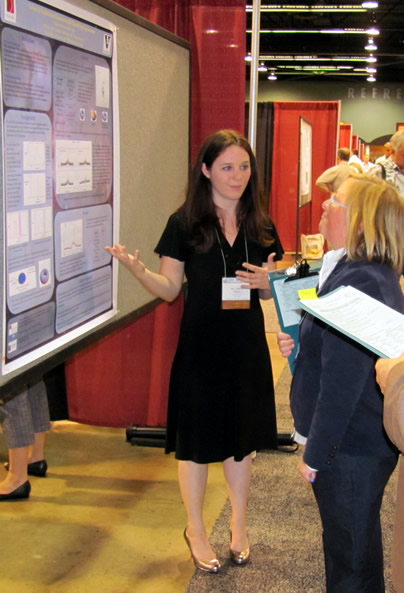 REU 2010 student Charee Peters presenting her research at the 2010 SACNAS meeting, where she was awarded best student poster.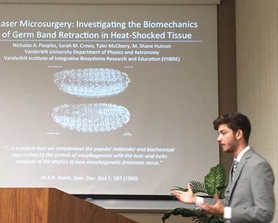 REU 2014 student Nick Peoples was awarded best symposium presentation and at 2014 SACNAS conference won best poster.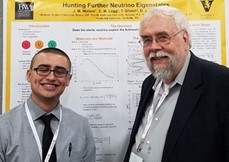 REU 2017 student Justin Malave was awarded the Victor Blanco Fellowship which supported him at SACNAS in Salt Lake.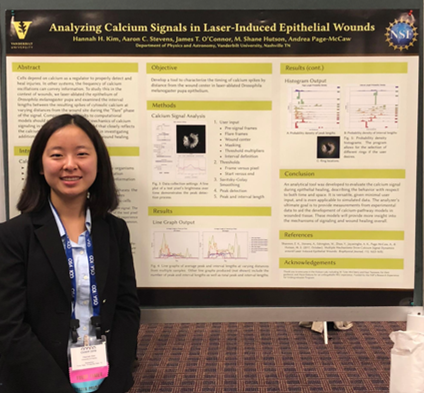 REU 2018 student Hannah Kim was awarded best student poster and presented at 2018 CUWiP conference.
Vanderbilt University
Vanderbilt is a mid-sized research University located near downtown Nashville, TN. The Department of Physics & Astronomy has 28 full-time regular faculty, plus numerous other research faculty, postdoctoral fellows, and graduate students.
Please direct questions about this REU program to: david.d.caudel@vanderbilt.edu.

These web pages are copyrighted by Vanderbilt University, and are based upon work supported by the National Science Foundation. Any opinions, findings, and conclusions or recommendations expressed are those of the authors and do not necessarily reflect the views of the National Science Foundation.